The He-man of
Bollywood
,
Dharmendra
, makes for a classic example of a complete outsider making his space in this otherwise clan-driven industry. He defied his mother's loving jabs of being 'not so handsome' by emerging as every girl's dream man. Dharmendra's passion to be in front of the camera started off decades ago, when he idolized the legendary Dilip Kumar. He was feared by villains as He-man and loved by the ladies as their daunting Hero.
In today's segment of ETimes BFFs (Big Filmy Families), we decode how Dharmendra lived the archetypal Bollywood dream, from being a small town nobody to a nationwide heartthrob.
Kewal Kishan Singh Deol and Satwant Kaur

Dharmendra's father Kewal Kishan Singh Deol was a school teacher at the same school where his kids were enrolled. Kewal Kishan Singh Deol and Satwant Kaur had six children, their eldest Santosh, passed away at the age of two. Dharmendra was their second son, followed by daughter Surindar, who passed away young due to typhoid. They also had son Ajit and daughters – Harminder and Sudarshan.
Dharmendra

This legend was born on December 8, 1935 in Nasrali village, Ludhiana, Punjab. When he was just two years old, Dharmendra moved to Sanewal, after his father was transferred there. When Dharmendra was in 8th standard, the country went through a partition and the actor lost several of his friends, who migrated across the border. Dharmendra's strict and disciplined father wanted him to become a professor but destiny had other plans for him.
Following his passion for acting, Dharmendra applied for Filmfare's talent hunt contest in 1958 and thus started his big Bollywood dream. He debuted in 1960 with 'Dil Bhi Tera Hum Bhi Tere' and went on to achieve much stardom with blockbusters like 'Phool Aur Patthar', 'Seeta Aur Geeta', 'Guddi', 'Yaadon Ki Baaraat', 'Sholay' and 'Chupke Chupke' to name a few.
Dharmendra not just established his legacy as an actor, but also founded a recording studio by the name of his eldest son. Sunny Super Sound, reportedly started off in 1983, has Dharmendra and his youngest son Bobby as board of directors.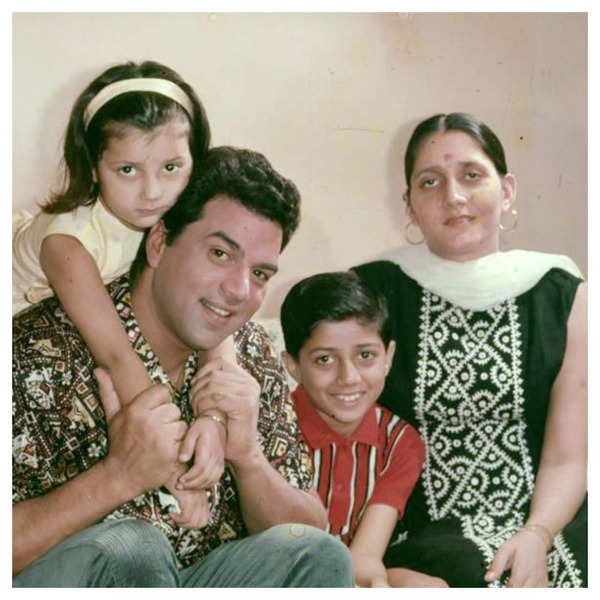 Prakash Kaur

Before he entered films, Dharmendra had an arranged marriage with Prakash Kaur. He was only 19 years old when this union took place. Before entering films, Dharmendra was already a father, his first born Sunny was a few years old. Dharmendra and Prakash had three more children, daughters Vijayta and Ajeeta and son Bobby.
Sunny Deol

Sunny Deol, born on October 19, 1956, followed his father's footsteps into films. He marked his acting debut in 1983 with 'Betaab', co-starring Amrita Singh. Soon after, he married Pooja in 1984. Just like his father, Sunny too established a macho image in films and is popularly known for his 'dhai kilo ka haath'. Sunny and Pooja have two sons, Karan and Rajveer. Over the years, Sunny delivered stellar performances with 'Damini', 'ChaalBaaz', 'Ghayal', 'Darr' and 'Gadar'.
Karan Deol

Sunny and Pooja's eldest son Karan worked as an assistant director on 'Yamla Pagla Deewana 2' in 2013 and marked his Bollywood debut with 'Pal Pal Dil Ke Paas' in 2019. This film was directed by his father Sunny Deol. In June 2023, Karan got hitched to Drisha Acharya, the great granddaughter of acclaimed filmmaker Bimal Roy. Working in the travel industry, Drisha stays in Dubai.
Rajveer Deol

Sunny and Pooja Deol's second son Rajveer Deol is gearing up for his big Bollywood debut. He plays the lead in 'Dono', which also marks the directorial debut of filmmaker and producer Sooraj Barjatya's son Avnish Barjatya.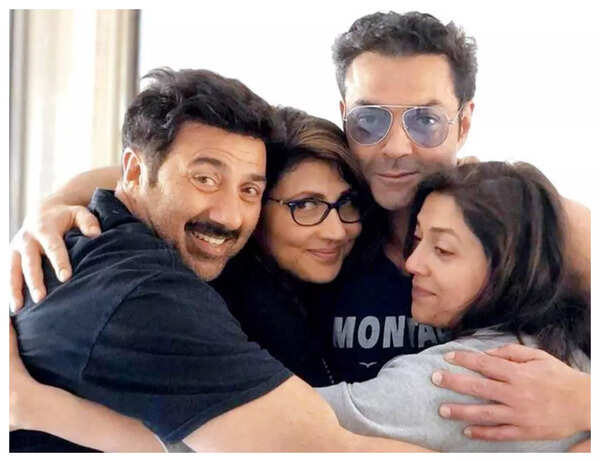 Vijayta and Ajeeta

Dharmendra and Prakash's second born daughter Vijayta married Vivek Gill and the couple has two kids – Prerna and Sahil. Dharmendra had established a production company in the name of his daughter Vijayta, who prefers to stay away from the limelight. Vijayta's daughter Prerna Gill, who is an author, married lawyer Pulkit Deora in 2017.
Dharmendra and Prakash's youngest child, daughter Ajeeta, stays in the USA. She is married to a dentist, Dr Kiran Chaudhri and they have two kids, Nikita, who is also a dentist, and Priyanka.
Bobby Deol

Born as Vijay Singh Deol on January 27, 1967, he is now known by his stage name of Bobby. After playing a child artist in his father's film 'Dharam Veer' in 1977, Bobby marked his full fledged debut with Barsaat in 1995. Money spinners like 'Gupt' (1997), 'Soldier' (1998), and 'Humraaz' (2002) followed. In recent times, he has been winning over the OTT space with his popular series like Class of '83 (2020) and Aashram (2020–present). In 1996, Bobby married Tanya Ahuja, daughter of a top banker. The couple has two kids Aryaman and Dharam.
Hema Malini

Dharmendra and Hema Malini's love story is one for the books. They crossed paths in 1970, while working on 'Tum Haseen Main Jawaan' and romance blossomed between the lovebirds. They had every intention to marry, but Hema Malini's parents were against the match. Eventually, the couple tied the knot on May 2, 1980. Dharmendra and Hema Malini have two daughters, Esha and Ahana.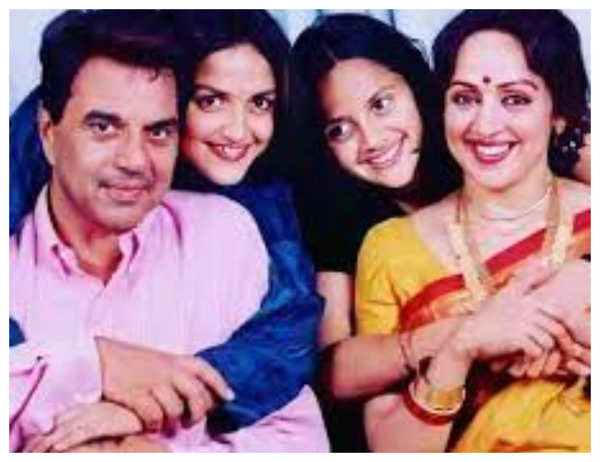 Relationship between the two wives

Dharmendra did not divorce his first wife, rather he embraced Islam so that he could marry Hema Malini. Soon after Dharmendra and Hema Malini's wedding, Prakash Kaur gave an interview to a magazine (1981) where she defended her husband and stated that he was very good to her and was the best father to their kids. Prakash had also stated that a lot of heroes were getting married a second time at that time and Dharmendra should not be singled out.
Before marrying Dharmendra, Hema Malini had met Prakash Kaur at social events. Hema had shared that she has never spoken about Prakash but she respects her a lot and her daughters also respect Dharmendra's family. Hema Malini had also stated that there is no feeling of jealousy or resentment between Prakash Kaur and her.
Esha Deol

Dharmendra and Hema Malini welcomed their first child, daughter Esha, in 1981. She is a trained classical dancer. Esha embarked into films with 'Koi Mere Dil Se Poochhe' in 2002 and went on to feature in 'Dhoom', 'No Entry' and many others. She debuted on OTT with 'Rudra' in 2022. Esha married businessman Bharat Takhtani on 29 June 2012. The couple has two daughters, Radhya (2017) and Miraya (2019).
Ahana Deol
Born in 1985, Ahana Deol tried her hand at acting with 'Na Tum Jano Na Hum'. However, she soon quit the profession and in 2014, married businessman Vaibhav Vora. Ahana is also a trained classical dancer, like her mother and sister. Ahana and Vaibhav welcomed son Darien in 2015 and turned parents to twin girls, Adea and Astraia Vohra in 2020.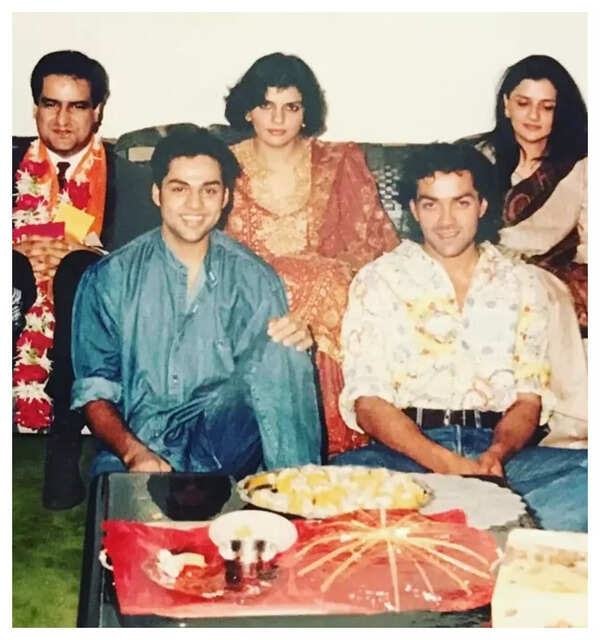 Ajit Singh Deol

Dharmendra's younger brother Ajit Singh Deol also indulged in films and was known for movies like 'Khhotte Sikkay'(1974), 'Meharbaani' (1982) and 'Barsaat' (1995). Ajit Singh Deol married Usha Deol, they had three kids – Abhay, Ritu and Veerta. Ritu is settled in India, while Veerta married actor Rammi Dhillon, they reportedly stay in the USA with their son Jai Dhillon. Ajit Singh Deol passed away in 2015.
Abhay Deol

Born on March 15, 1976, Abhay always wanted to be in front of the camera. Coming from a family of established actors, the acting bug had already bitten Abhay when he was 18. In 2005, Abhay marked his on-screen debut with Imtiaz Ali's romantic comedy 'Socha Na Tha'. His career spanning decades is punctuated with hits like 'Oye Lucky! Lucky Oye!', 'Dev D' and 'Zindagi Na Milegi Dobara'.
.